Enzo Fittipaldi Wins First Virtual Grand Prix Of 2021 For Haas
He's got the winning gene! The Fittipaldis conquered the virtual world for Haas as Enzo, grandson of two-time Formula 1 World Champion Emerson Fittipaldi, won the first Virtual Grand Prix of the year while his brother Pietro finished P5.
After starting down in P9 the Brazilian driver, who competed in FIA Formula 3 last year, weaved his way through the chaotic pack to claim Haas' first Virtual Grand Prix victory and sending them to the top of the teams' standings, where they have the best chance to secure the largest donation to their charity Grand Prix Trust from F1.
He was pushed all the way by Ferrari Driver Academy's Arthur Leclerc, who had snatched the lead from his Maranello team mate Marcus Armstrong. The latter started on pole position after 2019 F1 Esports Champion David Tonizza won the Sprint Race, but the Kiwi drifted backwards from there and finished P6.
Some others could only dream of a P6 finish, as the sunny opening laps in the Austrian countryside quickly saw a downpour of carbon fibre. Tonio Liuzzi, Jeffrey Herlings and Christian Lundgaard all got tangled up in the pack which plummeted them down the order.
Meanwhile, Alex Albon was going along his merry way from P18. He managed to swerve the flying debris at the start of his sensational charge to P4, only 1.4 seconds off the podium.
Arthur Leclerc was unphased in the lead, but the little shark's overtakes, the affectionate nickname Brazilian fans have given Enzo Fittipaldi, were going swimmingly. First he dispatched Jimmy Broadbent before a daring move on Thibaut Courtois moved him closer to P1. Finally a sweeping overtake Benjamin 'Tiametmarduk' Daly set up a showdown with leader Arthur Leclerc.
The place: Red Bull Ring Turn Three. 
The task: Win the first Virtual Grand Prix of 2021. 
The challengers: Arthur Leclerc and Enzo Fittipaldi. 
With eight laps to go, you couldn't separate the two drivers, even contact was made between the duo. With Leclerc going deep, Fittipaldi was able to steal the inside line and claim the lead. Five laps to go and Leclerc responds with an inside dive of his own for a convincing overtake. But with only three laps to go, Fittipaldi once again went for the inside line giving him a lead he wouldn't relinquish for the rest of the race!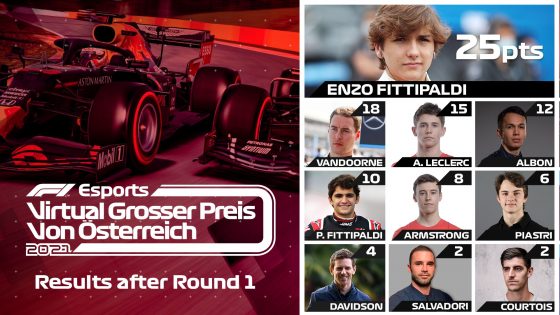 Still to come…
The unpredictability of Silverstone strikes the Virtual Grand Prix series as we head to Great Britain for Round Two. There will be a shake up of the grid as well, so make sure to stay tuned to all of F1's social media accounts for any news!
The post Enzo Fittipaldi Wins First Virtual Grand Prix Of 2021 For Haas! appeared first on F1Esports News.
Read More
Gamble Now